Reading Time:
3
minutes
You all know by now how much I love books. They are some kind of fetish to me, I need to buy them, smell then and consume them. A few months ago I talked about the #5 books that made me fall in love with Japan, and they all were narrative and literature books. Today, I want to propose you some non-fiction books to better understand Japanese culture and its more recent developments.
#5 non-fiction books about Japanese culture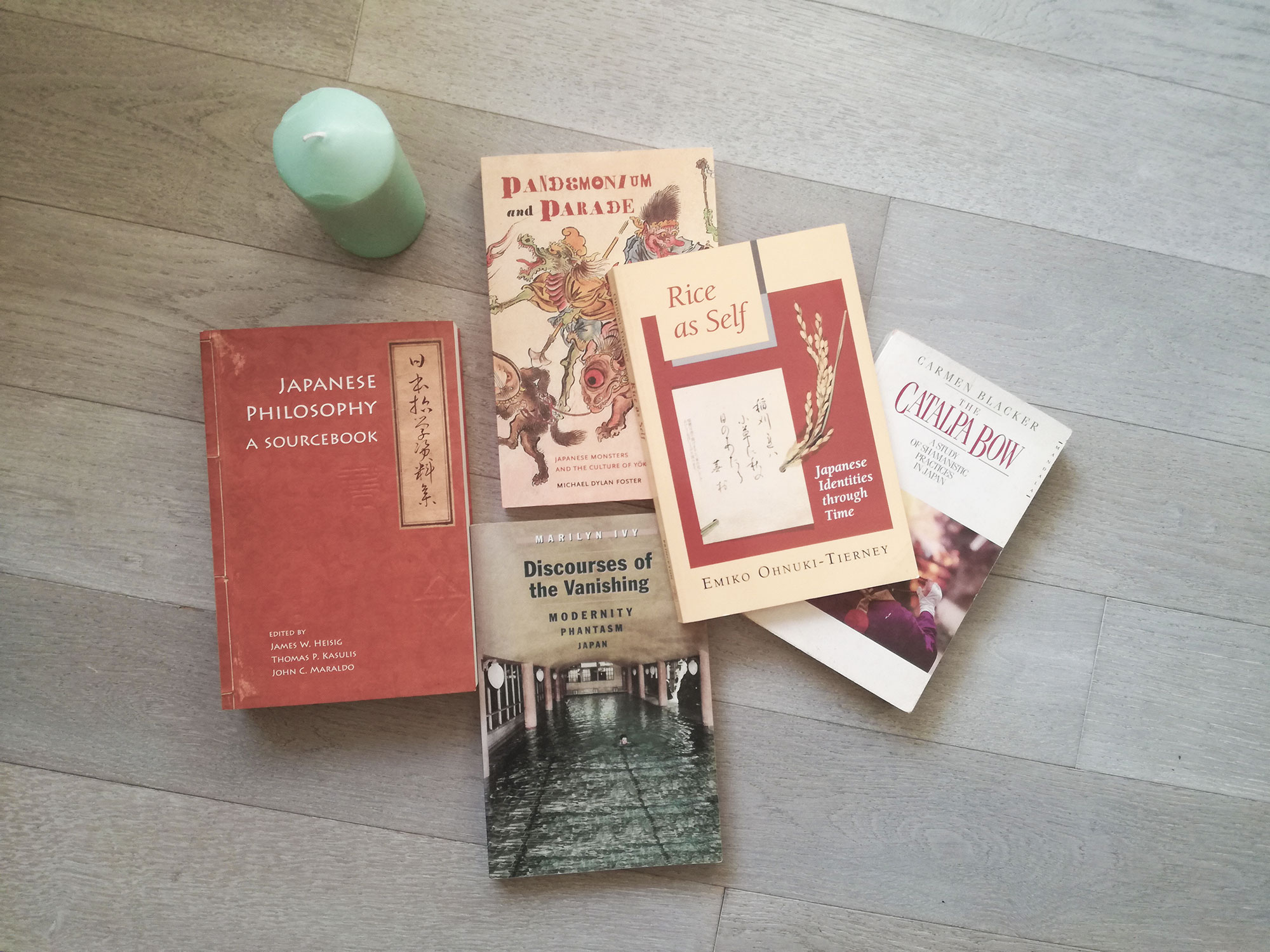 The Catalpa bow
By Carmen Blacker
A book about Japanese religions and Japanese shamanism.
'One of the absolute 'must read' books on Japanese religious practice. It is also essential reading for those interested in asceticism, shamanism and spirit possession in general.' – Ian Reader, Culture and Religion
Rice as Self
By Emiko Ohnuki-Tierney
A fantastic book about Japanese culture and Japanese food and culinary traditions.
Are we what we eat? What does food reveal about how we live and how we think of ourselves in relation to others? Why do people have a strong attachment to their own cuisine and an aversion to the foodways of others? In this engaging account of the crucial significance rice has for the Japanese, Rice as Self examines how people use the metaphor of a principal food in conceptualizing themselves in relation to other peoples. Emiko Ohnuki-Tierney traces the changing contours that the Japanese notion of the self has taken as different historical Others–whether Chinese or Westerner–have emerged, and shows how rice and rice paddies have served as the vehicle for this deliberation. Using Japan as an example, she proposes a new cross-cultural model for the interpretation of the self and other.
Discourses of the Vanishing
By Marilyn Ivy
A book about contemporary Japanese culture and society
Japan today is haunted by the ghosts its spectacular modernity has generated. Deep anxieties about the potential loss of national identity and continuity disturb many in Japan, despite widespread insistence that it has remained culturally intact. In this provocative conjoining of ethnography, history, and cultural criticism, Marilyn Ivy discloses these anxieties—and the attempts to contain them—as she tracks what she calls the vanishing: marginalized events, sites, and cultural practices suspended at moments of impending disappearance.
Pandemonium and Parade
By Michael Dylan Foster
A book about Japanese spirits, yokai and ghosts.
Water sprites, mountain goblins, shape-shifting animals, and the monsters known as yôkai have long haunted the Japanese cultural landscape. This history of the strange and mysterious in Japan seeks out these creatures in folklore, encyclopedias, literature, art, science, games, manga, magazines, and movies, exploring their meanings in the Japanese cultural imagination and offering an abundance of valuable and, until now, understudied material.
Japanese philosophy. A sourcebook
Edited by James Heisig, Thomas P. Kasulis, John C. Maraldo
As the titles shows, a book about Japanese philosophy.
With Japanese Philosophy: A Sourcebook, readers of English can now access in a single volume the richness and diversity of Japanese philosophy as it has developed throughout history. Leading scholars in the field have translated selections from the writings of more than a hundred philosophical thinkers from all eras and schools of thought, many of them available in English for the first time.
What about you? Do you have any favourite non-fiction book about Japan? Let me know in the comment section!