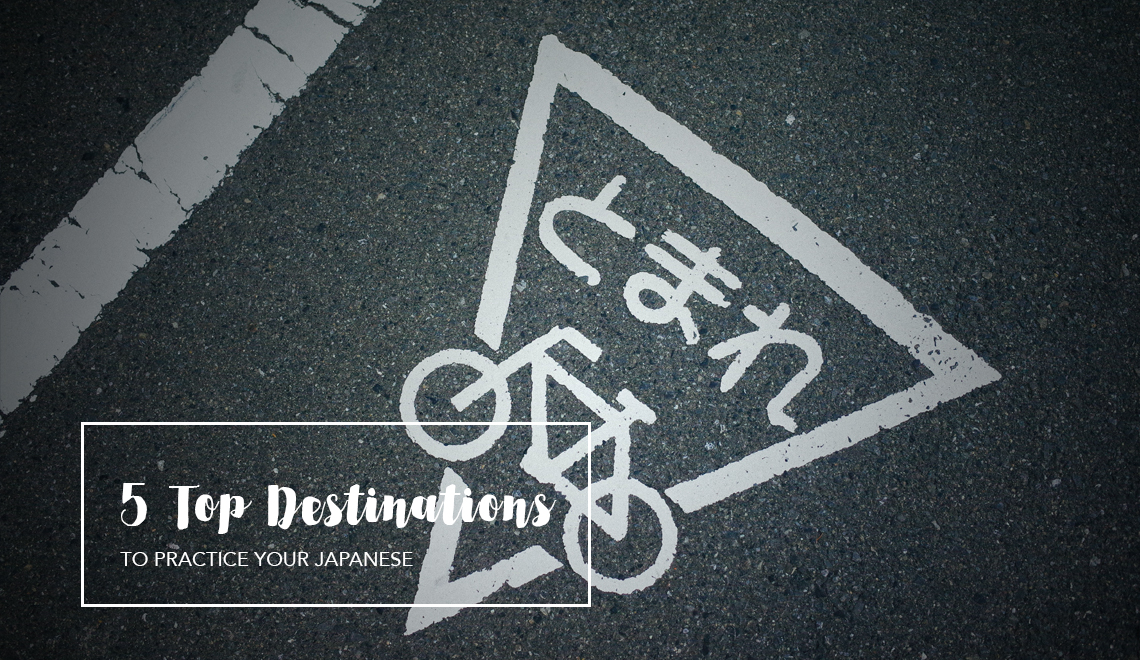 Reading Time:
7
minutes
Good morning everyone! My Japanese adventures are still going on, and in the next days I will post some new glances about Tokyo life and craziness, BUT today I am so happy to share with you a guest article by Sean Hopwood, founder of Day Translation, Inc.
Here you have his top five locations to practice your Japanese – in Japan of course! Enjoy!
Cover photo by Banglu Cheng on Unsplash
5 Top Destinations to Practice Your Japanese
There can be no doubt that learning a language is one of the most rewarding and satisfying experiences one can have. After all, we aren't simply talking about learning a second (or third) language for fun, though you can definitely do that and it would still be completely worth the effort. The opportunities you can explore for both business and pleasure are so numerous that the doors you open exercising your mastery of another language could very well change your life for the better. True, the process is indeed difficult, but it is most definitely worth the price of admission.
There exists a multitude of worthwhile languages to learn – for example, anyone who doesn't have English as a native language should definitely consider learning it simply because it's the universal currency of spoken language. However, there are also more exotic languages that are worth the effort of learning, with one of them being Japanese. Spoken by roughly 125 million people, this fascinating and outright mystical language opens doors for opportunity not only to make a profit or make a career out of Japanese translation services, but to immerse one's self in a perfect cultural balance of the ancient as well as the modern.
Of course, this no doubt brings up the topic of where exactly can you practice the language. The short answer for this is Japan – there is no other place in the world better suited to getting used to the language than this fine country, but there are specific destinations to consider as well! Here are the five top destinations to practicing your Japanese.
1. Fukuoka
The city of Fukuoka, which itself would be the capital of the prefecture under the same name is one of the top destinations for one reason – the relative ease of learning the Japanese language in its environment. This is due to the fact that even though Fukuoka has its fair share of modern malls, busy streets and sandy beaches, it is also incredibly quiet and peaceful when compared to some of the busier areas in Japan.
It is home to a number of ancient temples, including the ruins of Fukuoka Castle, which has been standing since the 17thcentury. You will definitely get a feel of the ancient as well as the modern culture of Japan as you walk through residential streets, city strips, and temple paths. Fukuoka is considered one of the safest places in the world to live, automatically making it one of the most popular places to practice your Japanese.
As if that isn't enough, the people of Fukuoka Prefecture are not only kind but extremely helpful as well, which is why many of them act as host families for tourists and students who go to Japan for either study or reflection. It is also home to some wonderful festivals, which will immerse you even further in its world and help you to learn the language that much faster. It makes a very solid choice whether you are a beginner still learning the ropes, or someone who wishes to test his or her mettle, and practice the Japanese language in a friendly and authentic environment.A great many of them will understand more common languages such as English!
2. Kyoto
While Fukuoka-chi is a wonderful destination for those who want to immerse themselves in all things Japan, the country's ancient capital of Kyoto (though it no longer holds that title) is a place where you can truly immerse yourself in the country's rich history. Do you feel like going back in time? That is exactly what is in store for you when you visit Kyoto, as you walk across its beautiful paths and meet its natives – who just like their surroundings feel completely untouched by time. Whereas the ruins of Fukuoka Castle give you a feel of what the 17th century was like, Kyoto brings you all the way back to Meiji Restoration and is truly an unforgettable destination.
All that said, Kyoto is also a place where the Japanese language is most prevalent and practically held sacred. This means that anyone who wishes to truly practice Japanese needs to look no further than Kyoto. However, this also means that it can be a challenge to those who have not completely grasped the language.You aren't alone though! Kyoto always has a great amount of tourists who, just like you have a hunger for the country's beautiful language. Before you know it you'll be swapping pointers while enjoying the city's remarkable sights and sounds.
3. Okinawa
For those who are looking for something different, even for Japanese standards, the island of Okinawa makes an excellent destination for those who want to take the most interesting approach to learning Japanese. This is due to the fact that the people of Okinawa are known for the Kansai dialect, which is a rather interesting take on the Japanese language. It is different enough that your mastery of the Japanese language will be polished, while still retaining enough similarities that you aren't hampered in your efforts to practice Japanese everywhere else.
Alongside this, the people of Okinawa are also known for being incredibly friendly – and incredibly loud to boot. This means that if you have a passion for learning the language, they'll be happy to help you out, whether you ask for their help or not. It is a wonderful experiences overall that will no doubt leave you that much better at speaking the Japanese language thanks in large part to this amazing destination. While it might be a more unorthodox method when compared to the other places in this list, Okinawa should still be a prime target for anyone who wants to get better at Japan's spoken language.
4. Tokyo
It is the current capital of the country, and it would be more than a little silly not to mention Tokyo in this list. A metropolitan area that seems to contain all of what makes Japan the way it is in a nutshell, this beautiful sprawling city truly deserves to be called the country's capital. While it can be rather hectic and more than a little crowded, it is this very reason that makes Tokyo such a popular destination for anyone who wishes to learn Japanese – or even just people who are looking to experience the country all in one place. While it might not have the same kind of regal air as Kyoto of the completely friendly environments of Fukuoka, Tokyo is an absolutely exhilarating destination for Japanese practice.
If ever you want a crash course in the language, the country's capital is by far the best choice as you will be introduced to everything that makes Japan so breathtaking all at once. It simply cannot be put into words what you're going to experience when you go to Tokyo to improve your grasp of the Japanese language.
5. Hokkaido
While Tokyo is the premier tourist destination of the country, Hokkaido is where you go to if you want to experience Japan in ways that come as a surprise even to its own people. Hokkaido is home to its world-famous volcanoes such as Mount Asahi, with the area consequently being famous for its natural hot springs. However, as if that wasn't enough it is also known for its cold climate and ski areas! For many Japanese people, going to Hokkaido is akin to going abroad, or going on vacation, and for good reason.
It's easy to see why this makes it a top destination for those who wish to brush up on their Japanese. Natives from all over the country visit this area not only for pleasure but also for a bit of peace and relaxation. This means that you will find many people that speak common languages to help you in your mastery of Japanese, alongside tourists from other parts of the globe to help you with your notes. There is simply so much to see and experience in Hokkaido that it feels like you're in another world entirely.
No Time to Waste!
It is completely understandable if these top five destinations leave you completely torn about where you want to concentrate on practicing your Japanese. The fact that each and every one of these locations bringsits own taste of Japan means that visiting all of them in pursuit of the language becomes the obvious choice. However, if you happen to visit one area and find yourself not wanting to leave, that is a completely natural reaction to anyone who happens to visit this wonderful country.
For those who are truly serious about learning the Japanese language, practically any location in Japan is viable. The five locations mentioned above are simply suggestions you can take if you don't quite know where to start. All things considered, it is a nigh mystical country with so much to offer – and the fact that the Japanese language is not as difficult to learn as many others becomes the cherry on top of this already irresistible cake.
Author Bio:
Sean Hopwood, MBA is founder and President of Day Translations, Inc., an online translation and interpreting services provider, dedicated to the improvement of global communications.